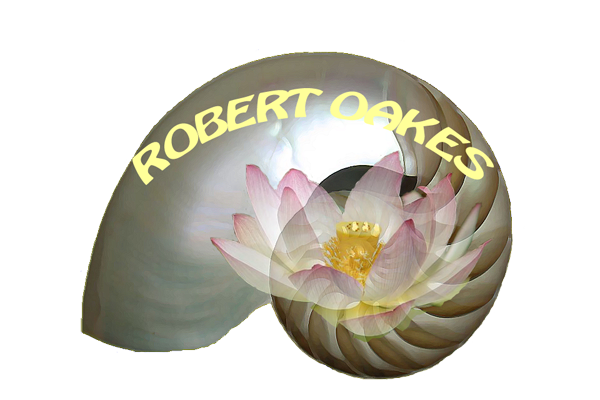 HEALING WORK
OF
ROBERT OAKES

Robert brings together over twenty years of healing work and training in a number of healing modalties. This training covers herbology, homeopathy, counseling, nutrition, and a number of energy healing modalties. In particular Robert is trained in VortexHealing® Divine Energy Healing.
Information about VortexHealing® can be found in-depth at their website www.vortexhealing.com It is a very powerful healing system and is adaptable to the majority of healing situations. The system is a form of channeled healing energy that carries with it a strong Divine consciousness. As it works from the inside out, it can work on the karmic level or origin level of disease, instead of only addressing the manifestation level (symptoms). VortexHealing® can be used to get at the root cause of illness; promote wellness; deal with emotional and karmic issues; and facilitate spiritual growth and development.
This system is not only effective in treating the human body but can also be used with great success in treating animals as well as optimizing the physical space in which we live or work. The impact on the home or work environment can be amazing and is useful in not only maximizing energy flow but also useful in treating "sick buildings". Often time these "sick" environments drag down our energy, and in the workplace account for employee low moral and absenteeism due to illness.
The ultimate goal with Vortexhealing is to end the sense of separation we have from the Divine and to facilitate Awakening. To clear our karmic story so that we can come to understand our true existence.
Robert's healing training led to the development and evolution of a new healing system called Divine Bridges. Again it is a very powerful form of channeled energy that can work in person or by distance. Although similar to Vortex healing, it is designed to work in group settings as well as individual sessions, and creates such a strong bridge through to the Divine that it is able to affect healing in a deeper and more rapid manner. It truly is magical to participate in.
.
---
To list just a few of the conditions I have had success treating...
- Fibromyalgia, Chronic fatigue (CFIDS), MPS
-Various forms of Arthritis including Rheumatoid and gout
- Cancer (primary treatment as well as supplementary support)
- Back and neck injuries (including disc injuries)
-Muscle trauma (including torn muscles, ligament and tendon damage)
-Immune support
-Candida infections
-Chronic infections
-Hypothyroidism
-Hypoglycemia and Diabetes
-Hypo and hyper tension (low and high blood pressure)
-Depression
-Stomach/G.I. tract problems
-Liver dysfunction and disease
-Menstrual irregularity
-Menopausal support
-Pre and post surgery support
-Carpal Tunnel and other repetitive use injuries
-Vision support
See what some of my clients say!

Other Services Offered
- Therapy - counseling
- Spiritual counseling and teaching
-Nutrition and Lifestyle counseling
- Healing work on animals
-House blessings
-Home/business clearings
-Home/Business energetic improvements
-Dream interpretation

To book a healing session, either for an in person visit if you are close by or to book a distance session from anywhere in the world, please e-mail us.
FEE FOR A VORTEX HEALING SESSION
(APPROX. 1 HOUR)
$60.00 CND
FEE FOR A
CONSULTATION
OR
COUNSELING SESSION
(APPROX. 1/2 HOUR)
$40.00 CND
OTHER FEES SUCH AS HOME/BUSINESS CLEARING ARE AVAILABLE UPON REQUEST

Robert is also a trained healer in what would be classed as shamanic healing. If you wish to take part in one of Robert's sweat lodges, Pipe ceremonies, Vision Quests or other ceremonies then please contact us and we can let you know when and where they will be.

IF YOU ARE MAKING PAYMENT FOR A HEALING SESSION THEN PLEASE USE OUR PAYPAL LINK BELOW
OR IF YOU ALREADY DO YOUR BANKING WITH A CANADIAN BANK ONLINE,
WE ACCEPT INTERAC EMAIL MONEY TRANSFERS

A SHORT HISTORY OF MEDICINE
2000 B.C. - HERE, EAT THIS ROOT
1000 A.D. - THAT ROOT IS HEATHEN. HERE, SAY THIS PRAYER.
1850 A.D. - THAT PRAYER IS SUPERSTITION. HERE, DRINK THIS POTION.
1940 A.D. - THAT POTION IS SNAKE OIL. HERE, SWALLOW THIS PILL
2000 A.D. - THAT PILL IS POISON. HERE, EAT THIS ROOT.